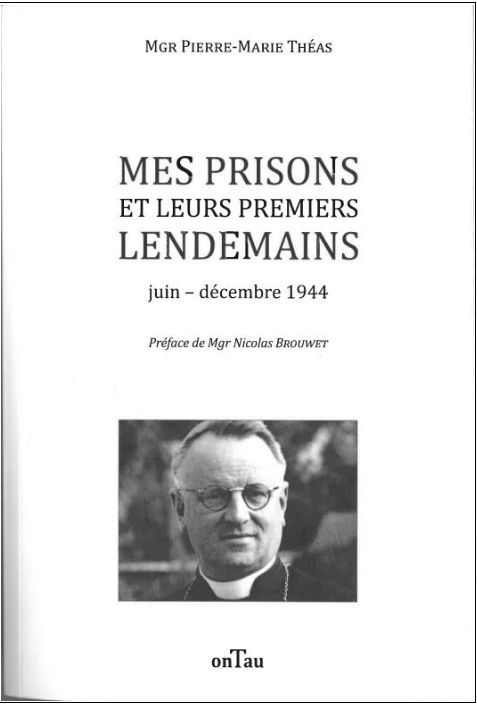 Title : My Prisons and Their Consequences / June-December 1944
Author : Pierre-Marie Théas, Bishop of Montauban then Tarbes and Lourdes
Genre : Journal
Introduction : Father Régis-Marie de La Teyssonnière, diocese of Tarbes and Lourdes
Preface : Mgr Nicolas Brouwet, bishop of Tarbes dans Lourdes
Publisher : OnTau
Release : October 2017
Number of pages : 223
Price : 15 euros
The book is available in the Bookshop of the Sanctuary.
In the summer of 1942, Bishop Pierre-Marie Théas, Bishop of Montauban, denounced the persecution of the Jews. And because he called for this respect for human dignity, he was forced to experience the prison of Montauban and Toulouse, then internment at Camp Compiegne. His diary, published here for the first time, covers these most painful, but also most exhilarating months of his life. Following St. Peter and St. Paul, throughout his suffering which he always offered up, the captive bishop tasted the sweet closeness of "his Lord and his God". In the breath of the Spirit, he writes with simplicity, like an apostle of the Gospel.
This book is a gem. "Written in a very understated style" as Father de La Teyssonnière points out, it allows us to follow each day of one of the few bishops who held out under German occupation. A resistance for which he had to pay a high price: his physical freedom, for several months. Without his "inner freedom" ever being undermined. What is touching is this spiritual stance, unceasingly nourished by grace, which makes the diary of Bishop Théas a valuable testament for our time. "After my baptism and my priesthood, I consider my arrest as the greatest grace of my life," says this man of God. More than seventy years after the event, his testimony is still relevant, since too many situations of oppression, humiliation and hatred continue to whip the face of our humanity which is still trampled on by its worst enemy: man himself. Do these threats and depression continue today? This is much more than a memoire (what it seems at first). These pages are an ode to life, a source of hope in a world that needs to be saved. And consequently, a call for change and resistance. This is about all of us: this is holiness.
At Montauban, the courage and determination of the new bishop, Mgr. Pierre-Marie Théas, asserted itself when the persecutions against the Jews began. He echoed the daring words which Cardinal Saliège, Archbishop of Toulouse, wrote with a trembling hand, overwhelmed by the infirmities which paralysed him. The Gestapo did not dare to lay hands on the esteemed elderly man. It seemed easier for them to attack the young bishop of Montauban, his neighbour, who, in August 1942, had circulated a text in all the churches of his diocese, denouncing the persecution of the Jews. Following the Vel d'Hiv Roundup, Bishop Théas had read out at the mass of 30th August 1942, a letter carried by his faithful secretary Marie-Rose Gineste on her legendary bicycle, now to be found at Yad Vashem in Jerusalem. "Men and women are treated like an

evil flock and sent to an unknown destination and face the greatest dangers. I proclaim that all men, Aryan and non-Aryan, are brothers (…) that all men, regardless of race or religion, have the right to respect from individuals and from states". Similar letters, firstly from Mgr. Saliège first and later from Mgr Theas were very soon heard around the world thanks to "This is London Calling", the crackly but audible English radio programme with the voice of Maurice Schumann first (31st August), and Jean Marin (9th September). The Gestapo arrested Bishop Théas on 9th June 1944 and sent him to a prison camp in Compiègne. He was arrested at the same time as Mgr de Solages (rector of the Catholic Institute of Toulouse), Mgr Rodié (Bishop of Agen) and Mgr Moussaron (Archbishop of Albi). At Compiegne, one of the internees, who until then had rarely even crossed the threshold of a church, declared to him, "We've been waiting for a bishop. And here you are. Thank you." For these men who had already suffered so much and who feared being sent to the death camps, Mgr Theas was an apostle of mercy and forgiveness. One Sunday, he suggested to his new "congregation" that they pray for their jailers. Initially his unexpected request provoked reactions of refusal and revolt that scarred him deeply. That day, he understood the importance of the reconciliation of hearts. This was to be the start of his vocation as an apostle of peace. On 14th July 1944, his sermon to his fellow internees focused on the theme of reconciliation between peoples and more particularly between France and Germany. On the 15th he celebrated Mass for his enemies. "Wanting to reconcile the way I acted with the doctrine of the Gospel, on July 15th and July 22nd, I celebrated the Mass for the Germans and Hitler. To love an enemy at the very moment when he is suffering is what it means to be a Christian, because the Germans were suffering, "he wrote. The Liberation of Paris saw him return to his diocese of Montauban. He played a diplomatic role between the Provisional Government of the Republic and the Holy See: General de Gaulle trusted this man who, in contrast to most members of the episcopate, was one of the few bishops of France to take a stand during the war. Bishop Théas met General de Gaulle on 7th September 1944. The head of the Provisional Government asked him to go to Rome to draw the Pope's attention to the situation in France and to negotiate the replacement of the Apostolic Nuncio in France. To prepare for his trip to Rome, Bishop Théas met with ministers, intellectuals and religious, between 29th October and 11th November in Paris. He had another interview with General de Gaulle. On 27th November 1944, Bishop Théas was in Rome where he met with the Pope. In 1946, Bishop Théas received the temporary office of apostolic administrator and then bishop of the diocese of Tarbes and Lourdes. In February 1947, he became bishop. Here he remained until his resignation, due to his age, in February 1970. On 8th July 1969, Bishop Théas received the title of "Righteous among the nations" at the same time as Cardinal Saliège. He has a commemorative plaque at the Yad Vashem memorial in Jerusalem.