Measures taken by the Sanctuary
– The wearing of face-masks will be compulsory in the Sanctuary.
– At the two main entrances, members of the hospitality will be available to welcome and
provide information for pilgrims.
– The members of the religious communities of Lourdes, helped by markings on the
ground, will be accompanying groups of ten people wishing to visit the Grotto.
– The "chapelains" will be continuing the uninterrupted prayer in the Grotto and will
be offering the sacrament of Reconciliation at the Church of St. Bernadette, respecting
social distancing.
– Opposite the Grotto (right bank), at the chapels of light, as well as at the Grotto water
taps, pilgrims are invited to respect social distancing. Markings on the ground will make
it easier for everyone to understand how this works. Members of the Hospitality and
Sanctuary guards will ensure that the duration of personal meditation is not excessive.
Sanctuary opening times from 2pm to 6pm
Access saint Michael's gate saint joseph's gate
Accompaniment group of ten pilgrims access opposite the grotto at the chapels of light as well as the taps for water from the grotto confessions
Wearing a face mask is compulsory in the sanctuary
No celebrations baths closed
Uninterrupted prayer at the grotto continues
8 million euros in forecasted losses.
Historical deficit for the Sanctuary
Every day since the start of the crisis, organised pilgrimages have been cancelling their visits. The Sanctuary is facing an almost empty season, completely devoid of any sick pilgrims.
> The resources of the Sanctuary are reliant on the pilgrims who visit the site. Without them, without their offerings and donations, Lourdes cannot exist.
> The Sanctuary was hit by these economic difficulties just after it had returned to financial equilibrium.
> To secure its future and to preserve jobs, it is vital for the Sanctuary to appeal to the generosity of its donors.
"The countless testimonies and prayer intentions that have come to us confirm that the role of this Sanctuary is to be a beating heart of prayer for the world and with the world." Mgr. Olivier Ribadeau Dumas, Rector of the Sanctuary ND Lourdes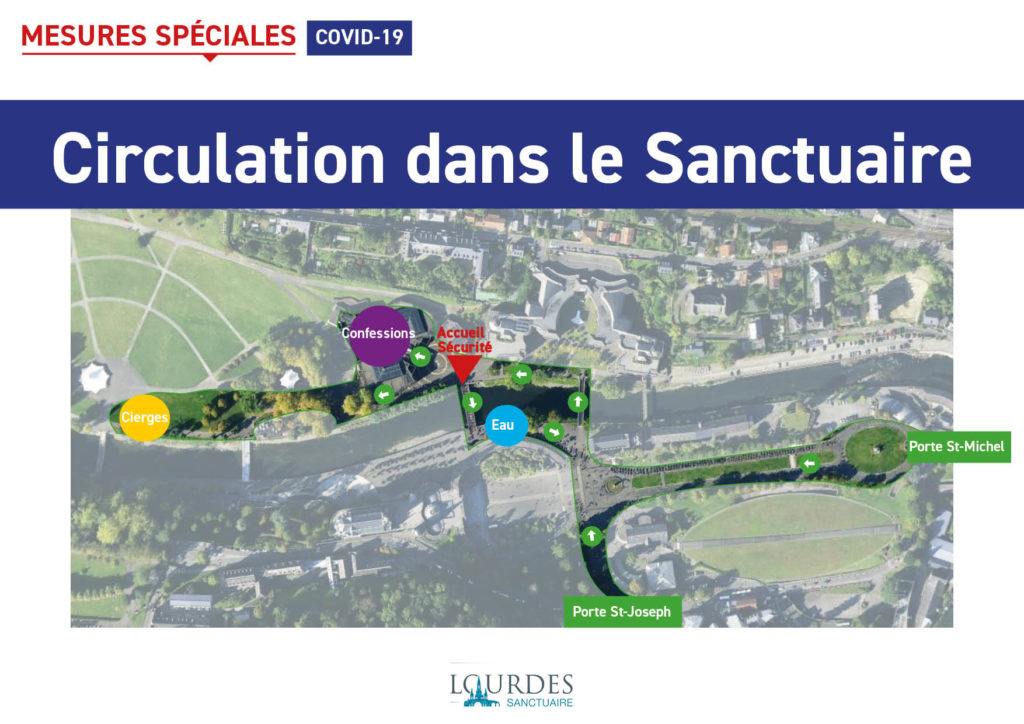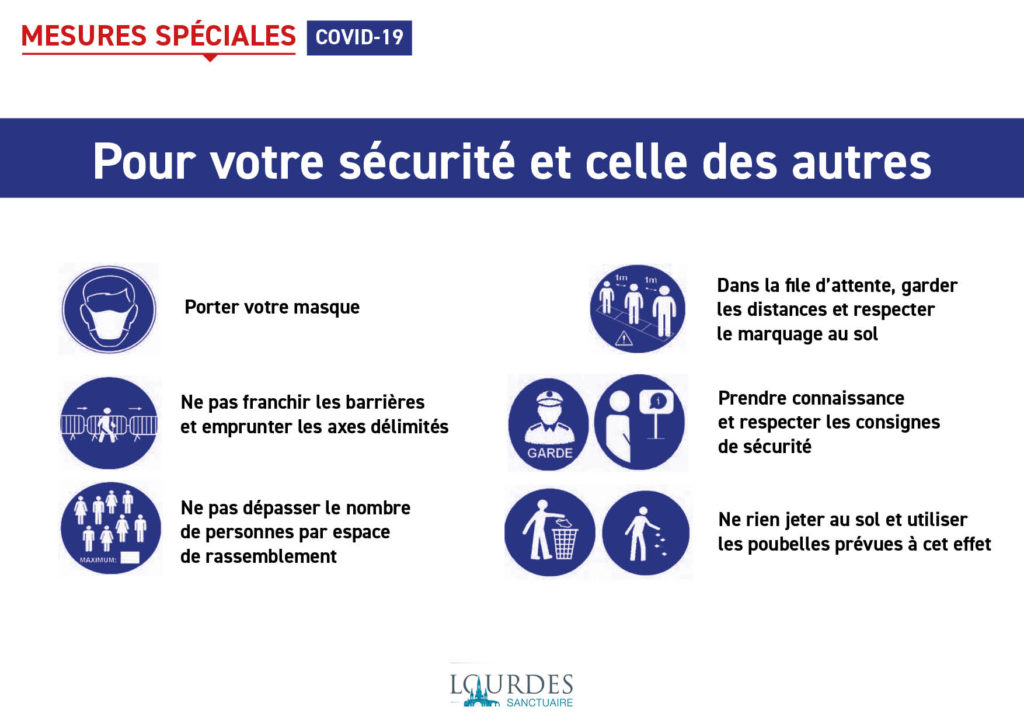 BY BANK CHEQUE, made payable to the Diocesan Association of Tarbes and Lourdes at
Sanctuary of Our Lady of Lourdes Donor Service – Operation Covid19
1, avenue Monseigneur Théas 65108 Lourdes Cedex

BY BANK TRANSFER, by mentioning "Operation Covid19"
Diocesan Association of Tarbes and Lourdes Agency: Societe Generale – Lourdes
IBAN: FR76 30003 02051 00037260102 02 SWIFT address (BIC code): SOGEFRPP