Activities in the Sanctuary of Lourdes
A la une
During the pilgrimage season from April to October, The Sanctuary of Lourdes publishes each month three information tools: Lourdes News, The Mag Video and The Diary of Grace of Lourdes. They are created for you! All these are available online.

Arriving to Lourdes from America on a family pilgrimage in June 2017, Andrew and Marie Tallon share their moving testimony; not only is this a testimony of his love, but it also reveals with certainty the recovery process of Andrew's healing. "Healing is more a way of life than an act at a given moment" summarises Marie from a clip in this video from the Diary of Grace in drawing to our attention this special day.

This man describes how a grace was received through the conversion of his son who had become a Buddhist, but then suddenly returned to the Catholic faith while on a visit to Lourdes, where it had not been initially expected.
TV Lourdes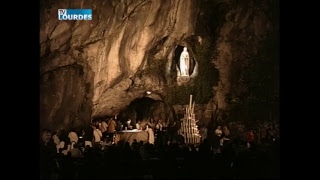 En cours
Messe internationale (International)
9.30 AM

-

11.00 AM
A suivre
Passage des malades (Archidiocèse de Luxembourg)
11.00 AM

-

11.45 AM
Accéder à TV Lourdes