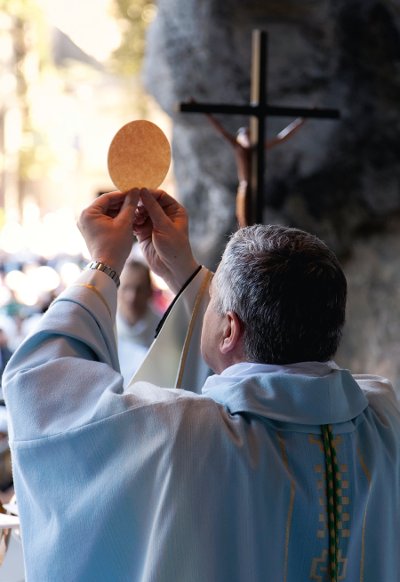 When and where will the Mass, for which I have made an offering, be celebrated ?
It is not possible to set a date in advance for the celebration of the Mass. Masses are celebrated as and when the offerings are received. The Mass you request today will be celebrated in the Sanctuary of Lourdes or in another diocese or even in a mission country. There are strong ties between Bishops, and the Mass offering made in Lourdes can help support priests and communities throughout the world. This is one of the most beautiful facets of the universal Church. You have requested a Mass today and the grace of the Lord acts on your petition straight away. You may, of course, also present your intentions to the Lord the next time you attend Mass.
How should I formulate my prayer intention ?
Your prayer intention should reflect the reason for which you wish to have a Mass offered. It may be for one or several people, living or dead, or include a general or specific prayer intention for the Church or the world. If you wish, you can be specific in what you are asking of the Lord for these people or in this intention.
What is a Mass offering ?
It is a donation for the celebration of a Mass for a special intention. With this donation you participate in the life of the Church and help support priests.
Who sets the amount of the Mass offering ?
In France it is the French Bishops' Conference that sets the amount of the offering. In the Sanctuary of Our Lady of Lourdes the amount is set at 20 Euros.
In accordance with the law 'Informatique et Libertés' of 6th January 1978, modified in 2004, you have the right to access and rectify any information that concerns you, which you can exercise by contacting the Service Communication of the Sanctuary at the following address: communication@lourdes-france.com. You may also, for legitimate reasons, object to the processing of your personal data. The information collected is processed by computer to record your payment and register your eventual subscription to the Newsletter. The recipients of the data are the Marketing Department, the Service Communication, and the management service of the masses of the Sanctuary.