Horaires d'ouverture du Sanctuaire : 7h45-18h
Horaires des messes
Du lundi au vendredi
8h : Messe à la basilique Notre-Dame du Rosaire
9h : Messe en anglais à la chapelle St Jean-Marie Vianney
10h : Messe à la Grotte (retransmise en direct sur KTO)
11h : Messe en italien à la chapelle St Jean-Marie Vianney
11h15 : Messe à la basilique Notre-Dame du Rosaire
Le samedi

8h : Messe à la basilique Notre-Dame du Rosaire
9h : Messe en anglais à la chapelle St Jean-Marie Vianney
10h : Messe à la Grotte (retransmise en direct sur KTO)
11h : Messe en italien à la chapelle St Jean-Marie Vianney
11h15 : Messe à la basilique Notre-Dame du Rosaire
16h15 : Messe anticipée du dimanche à la basilique du Rosaire
Le dimanche
8h : Messe à la basilique Notre-Dame du Rosaire
9h : Messe en anglais à la chapelle St Jean-Marie Vianney
10h : Messe à la Grotte (retransmise en direct sur KTO)
11h : Messe en italien à la chapelle St Jean-Marie Vianney
11h15 : Messe à la basilique Notre-Dame du Rosaire
16h15 : Messe à la basilique du Rosaire
Horaires des chapelets à la Grotte
15h : chapelet en anglais (diffusé sur EWTN)
15h30 : chapelet (diffusé sur KTO)
16h : chapelet en espagnol (diffusé sur EWTN)
18h : chapelet en italien (diffusé sur TV2000)
Prière de l'Angélus
12h : à la Grotte
Confessions
Ouverture de la chapelle de la Réconciliation de 10 h 00 à 12 h 00 et de 15 h 00 à 17 h 00.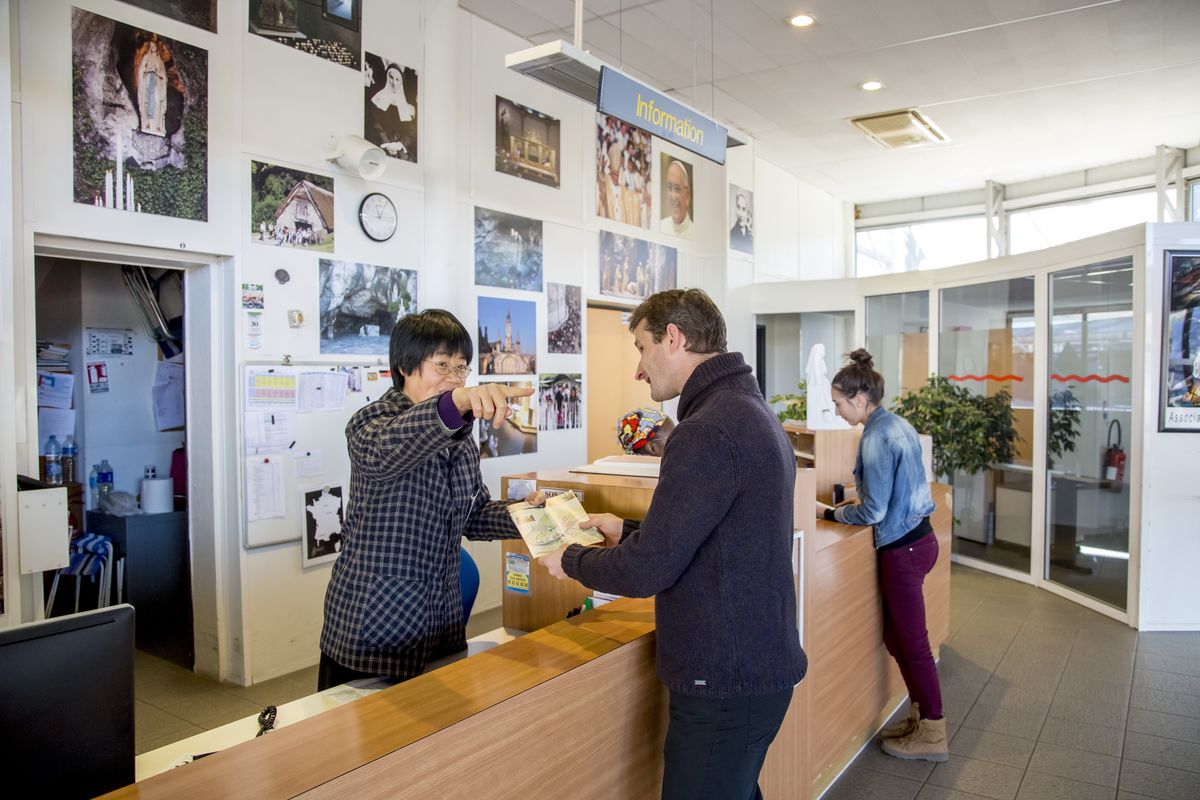 Besoin d'un conseil ?

Par téléphone :
+33 (0)5 62 42 20 08

Par le formulaire :
Ci-dessous

Horaires du Centre Info :
9h à 12h et de 14h à 17h

In accordance with the regulations concerning the protection of personal data, you have the right to access and rectify any information that concerns you. You may send a request with this
simple form
. You may also, for legitimate reasons, object to the processing of your personal data. The information collected is processed by computer to record your payment and register your eventual subscription to the Newsletter. The recipients of the data are the Donation Department and the Service Communication of the Sanctuary.