Jesus contradicts the experience of his apostles, our experience. We are attached to the physical presence of our loved ones. We exist with them and through them. If they happen to leave us, especially in death, we are disoriented, lost. We really miss them.
Christ announces to his disciples that they have an advantage in seeing him depart from them. As long as Jesus is present, his friends still have only an imperfect knowledge of the mystery of God. God made man encloses them within the limits of space and time. They cannot bear the mystery of faith in its entirety. Such is human intellect. It is limited. Its functioning is sometimes flawed.
It is the Spirit of truth that Jesus will send from the Father who will lead the apostles to the whole truth. Jesus risen, returned to the Father, fully lives in communion with him. All that is the Father's is also the Son's. Jesus does not jealously guard the love, the truth, the life that he receives from the Father. He communicates them to the Holy Spirit, who himself will make them known to the apostles, to every human being throughout history who opens his heart.
No one person in the Trinity keeps himself to himself. The love which circulates, is received, is communicated, is shared, and establishes a radiant intimacy of being, life and happiness.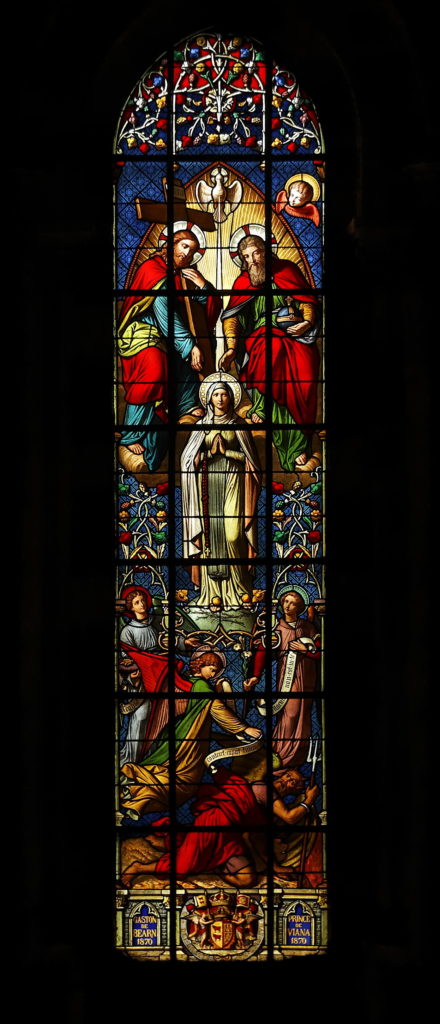 Stained Glass "The Trinity", in the Immaculate Conception Basilica, in Lourdes.
Our own identity as Christians is revealed to us. The Father who creates us, the Son who saves us, the Spirit who sets us on fire, give us the grace to be part of their unity and to taste their eternal joy, through the realities of this world.
On Earth, wonders and dramas exist side by side. Its rate of progress sweeps away our familiar landmarks and sometimes makes us doubt the future. Yet the Wisdom of God, the Spirit of God are there, invisibly at work. Sometimes perceptibly, sometimes clandestinely, they reveal the delights of God. They help us to experience in the Church the unity that models itself on that of the Father, the Son and the Holy Spirit.
We believe, like Saint Paul, that we can pride ourselves on the hope of sharing in the glory of God. This hope does not disappoint. Happy are we when we are impoverished of all our pretensions to receive the richness of this reign of Love to which the Virgin Mary and Saint Bernadette point the way!
Bishop Jean-Paul Jaeger,
Bishop of Arras (France)