"Do not be sad, am I not here, I who am your mother?", are the reassuring words that the Virgin of Guadalupe spoke to the native Juan Diego on 12th December 1531, during her fourth and last apparition. As Patron Saint of Mexico and Patroness of America, she wished her enduring image to be a simple 'tilma' (cloak made from cactus fibres), as a sign of God's Love for believers and non-believers alike.
 Looking back at the inauguration of the chapel of Lourdes:
This chapel is located in the left arm of the Rosary Basilica. Dedicated previously to Saint-Roch, it was the focus of a complete overhaul. The Virgin of Guadalupe, Mother of the Mexicans, made her first appearance in Lourdes on 12th May 1966, when the Martinez family from Mexico, in collaboration with the Basilica of Guadalupe and the Sanctuary of Lourdes, carried out several months of work to remodel this chapel with mosaics made of Arudy stone. Eduardo Tamariz was the sculptor, making two statues, one in bronze situated in this chapel, and the other in marble that can be seen in the reconciliation chapel in the Sanctuary of Our Lady of Lourdes.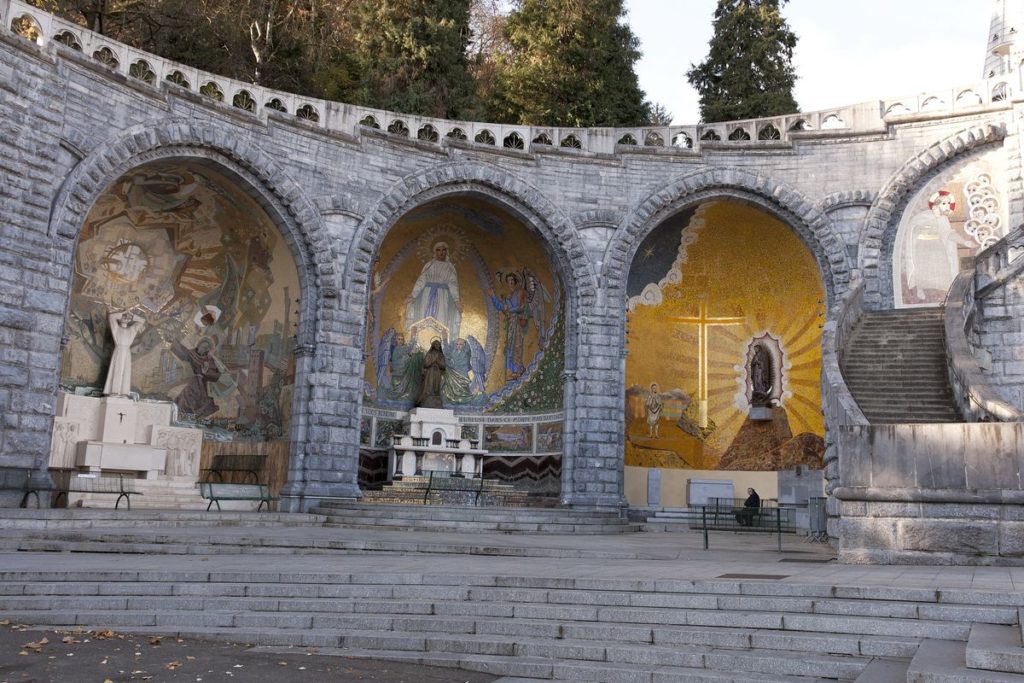 On Sunday, 18th September 2011, following further embellishment and renovation work funded by a Mexican philanthropist, Cardinal Norberto Rivera Carrera (Archbishop of Mexico, at that time), inaugurated and blessed the chapel dedicated to Our Lady of Guadalupe. The restoration was realised thanks to a collaboration between Mexicans, Spaniards, French and Italians. This second appearance of Our Lady of Guadalupe gave life and colours to a chapel that the pilgrims of Latin America had previously found sad and grey.
The Pope and the "Morenita"
This celebration has become a tradition in the Vatican. On 12th December, on the feast of Our Lady of Guadalupe, Pope Francis will preside over the Eucharist in St. Peter's Basilica.
Pope Francis has a great affection for the Virgin Mary and especially for Our Lady of Guadalupe, whom he calls "La Morenita". The 12th December has become an international holiday, as many countries and cities now celebrate the "Morenita".
Since 12th December 1531, when the Virgin Mary asked San Juan Diego to go and pick roses during the barren season, the image of the Virgin Mary was imprinted on the 'tilma' (cactus-fibre cloak) of Juan Diego and is still intact. To this day, this image continues to amaze scientists and the world at large.
In his apostolic journey to Mexico, Pope Francis said, "Above all, the Virgin Morenita teaches us that the only force capable of conquering the hearts of men is the tenderness of God."
To find out more about Our Lady of Guadalupe: