Saint Joseph husband of the Virgin Mary (1st century)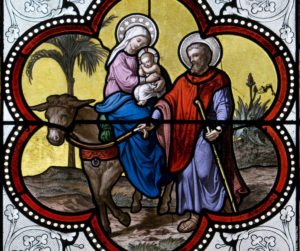 "The Eternal Father chose Saint Joseph to be the nurturer and guardian of his main treasures, that is, his Son and his bride." (Saint Bernardine of Siena)
The Gospel writers do not record any of the words of the one called "righteous." The carpenter of Nazareth in Galilee is presented in holy scripture as a husband as discreet as he is faithful and chaste, and as the foster father of the Son of God.
The angel said to him, "Do not be afraid to take Mary home as your wife." and Joseph took Mary home as his wife.
After the birth of Jesus, the angel had said to him, "Get up, take the child and his mother" and Joseph rose promptly. Obeying God's will, he took the child and his mother and fled to Egypt.
He is a true son of Abraham: he believes and does what God tells him. When the adolescent Jesus disappears for three days during the pilgrimage to Jerusalem, Joseph accompanies Mary on her search for him. "Your father and I have been searching for you." And Jesus went down with them and returned to Nazareth, obedient to the one who, on earth, had paternal authority over him. God knew to whom he was entrusting his only Son and his Mother, the one who was the most capable man in the world to be the perfect image of the Father.
The Eastern Orthodox Church has always honoured Saint Joseph, while devotion to the husband of Mary has developed gradually in the Latin Church.
With the Apostolic Letter Patris Corde (With the Heart of a Father) Pope Francis reminds us that it is the 150th anniversary of the proclamation of Saint Joseph as Patron of the Universal Church. To mark this occasion, a "special year of Saint Joseph" is being held from 8th December 2020 to 8th December 2021.
In the Sanctuary, Saint Joseph is invoked every day
To accompany this time of fervour through the intercession of Saint Joseph, the Holy Father shared a prayer addressed to Saint Joseph, who is invoked through this prayer every day at the Sanctuary:
Hail, guardian of the Redeemer,
husband of the Virgin Mary.
To you, God entrusted his Son.
In you, Mary restored her trust.
With you, Christ became man.
O blessed Joseph,
be a father to us, too,
and lead us on the path of life.
Obtain for us grace, mercy, and courage,
and defend us from all evil. Amen.