Cardinal Robert Sarah, Prefect of the Congregation for Divine Worship and the Discipline of the Sacraments signed a decree that means the Blessed Virgin of Loreto will be included in the general Roman calendar. The decree states that the annual celebration of this optional memorial will be on the 10th December, the day that Our Lady of Loreto is celebrated in her sanctuary in the Marches region of Italy.
Located not far from the Adriatic coast, the Marian shrine of Loreto is famous all over the world for enshrining the "Holy House", the one where the Virgin Mary received the Annunciation from the Archangel Gabriel.
Pope Francis visited the sanctuary of Loreto on 25th March, the Solemnity of the Annunciation. The Holy Father chose this place in which to sign the post-synodal Apostolic Exhortation, written following the October 2018 synod on "the young, the faith and the vocational discernment", thereby entrusting to the Virgin this document and vocations. For the Sanctuary's pastoral care and for the Jubilee, he thus prioritised evangelisation on three fronts: families, the young and the sick.
"This celebration will help all people, especially families, youth and religious to imitate the virtues of that perfect disciple of the Gospel, the Virgin Mother, who, in conceiving the Head of the Church also accepted us as her own," reads the decree.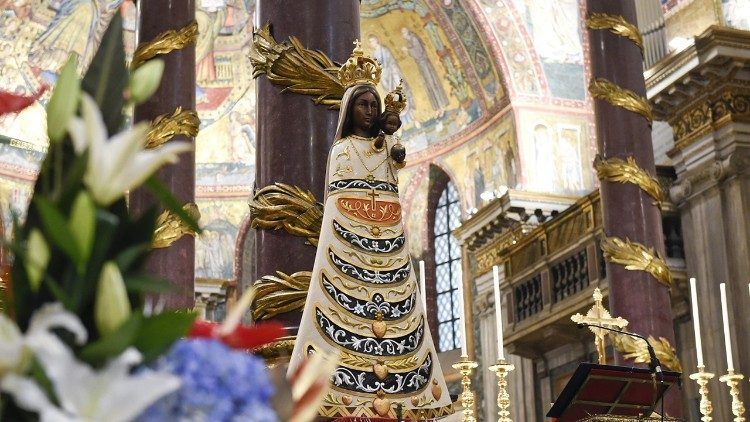 The Jubilee of Loreto, an invitation to put holiness into practice every day
On the Solemnity of All Saints, the city of Loreto announced the Jubilee Year, which will be held from 8th December 2019 to 10th December 2020.
Loreto and its Sanctuary, precious guardian of the Holy House, will start their Jubilee celebrations on 8th December with the opening of the Holy Door, 100 years after the proclamation of Our Lady of Loreto as patron saint of aviation and aviators. The announcement of the Jubilee coinciding with the feast of All Saints was timely said Mgr. Fabio Dal Cin, papal delegate to the shrine:  "We are called to fly high", the Archbishop underlined, "we are called to holiness, to the fullness of life and happiness that is the holiness offered by the Lord."