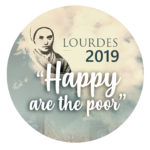 On Sunday 6th January at 2 pm, Father André Cabes, Rector of the Sanctuary, will open the Bernadette Year at a conference at the Palais des Congrès, during which he aims to help everyone reach a better understanding of the young Bigourdan saint. "We are all of us one of the faces of Bernadette and we can glean so many fragments from her which we can take for ourselves," he says. Father Cabes has also written a text "Happy are the poor" from which everyone can draw so as to walk in the footsteps of Bernadette.
To illustrate the words of Father André Cabes and to demonstrate how much Bernadette Soubirous, through her simplicity and sincerity, can speak to everyone, a series of window stickers and a slide show illustrating ten of Bernadette's sayings will be presented before their display throughout the year in the shop windows of Lourdes.
Commemorating Bernadette's baptism
Bernadette Soubirous was born on 7th January 1844, in a family bound together through love and prayer. She was baptised on 9th January at the baptismal font that can be seen today in the parish church and in front of which at 4.15 pm, Father Jean-François Duhar, parish priest of Lourdes, will commemorate this celebration.
There will be a musical finale to this wonderful day in a concert given by the Ensemble musical of Lourdes, in the Robert Hossein Room, at 5 pm.