Mgr. Antoine Hérouard, Apostolic Delegate for the Sanctuary of Lourdes, appoints as of 1st October 2019, Mgr. Olivier Ribadeau Dumas, Priest of the Diocese of Paris, Rector of the Sanctuary of Our Lady of Lourdes, with the of agreement with Mgr. Michel Aupetit, Archbishop of Paris.

He succeeds Father André Cabes, to whom Bishop Antoine Hérouard paid tribute in a message to the Sanctuary's working community:"He gave so much of himself, with generosity and sense of the Church, for the life of this Sanctuary which is very dear to his heart"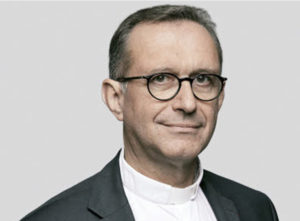 The installation Mass of
the new rector of the Sanctuary of Lourdes
On 21st October, in the Rosary Basilica, Bishop Antoine Hérouard, Bishop of the Sanctuary, presided over the Mass of Bishop Olivier Ribadeau Dumas, Rector, who took office on 1st October.
At the very beginning of the celebration, Mgr. Olivier Ribadeau Dumas repeated the gesture that Jesus made by washing the feet of ten employees and volunteers at the Sanctuary. This gesture helped to recall his sense of service. Jesus invites us to wash one another's feet. Bishop Hérouard, in his homily, asked us the question, "We may have good intentions, but are we really able to live out our service? It is in faith that we will find the strength to accomplish it" (Letter of Saint Paul to the Romans, chapter 4). The Bishop of the Sanctuary added, "Here, we can entrust everything to Mary: our joys, our plans, but also our despair. She bears it all to her Son." He insisted on the respect that we should have for one another. "Bernadette felt that she was looked upon as a person". He recalled, in particular, that each "must make their talents grow through the responsibilities that may be entrusted to them. And thus, allow those whom we meet to leave us stronger". This year, when the pastoral theme is "Happy are the poor", "we can take the same approach as Bernadette, who simply repeated what had been said to her". We must be able to say that, in this place, we demonstrate the tenderness of Mary.
Welcoming those
most "bruised and battered" by life
Bishop Olivier Ribadeau Dumas reiterated his joy at settling here in Lourdes, because "his authority lies solely in service". "Pilgrims are our raison d'être and we must be willing to welcome the most bruised and battered of them with special attention," he said. At the beginning of Mass, after reading the letter recognising the apparitions of Mary to Bernadette, written by Bishop Laurence of Tarbes in 1862, Bishop Antoine Hérouard presented the new rector of Lourdes with the chaplain's cross. He addressed the community of priests in the Sanctuary recalling, "that priests represent Christ in every celebration". The sanctuary of Lourdes shines out across the whole world. "All the work that we do must be enlightened by Mary's tenderness. We can live out our service by showing true compassion" he said again. Mgr. Olivier Ribadeau Dumas also wishes to pursue fruitful dialogue with elected officials in Lourdes, as well as with all the tradesmen and hoteliers, all united by their service to pilgrims. In conclusion, he paid a fine tribute to the rectorate of Father André Cabes and asked that everyone pray for his intentions.